A self-diagnosis of my writing process
I've been mulling over an idea for a larger writing project for quite some time now. Whenever I find time to write, though, I find myself staring like a gaping fish at my blinking cursor or my blank notebook page (a familiar feeling to all writers, I'm sure). Yeah, I jot down ideas and little snips here and there of what I think I want the story to be about, but when I sit down to get my characters to the page, I don't know where to start.
My well-meaning husband is always giving me advice. "Start anywhere! Pick a time, a place, a character and just write!"
Uh-huh. While I understand logically that I should sit myself down and 'start', that I can't just wait for inspiration to 'hit me', I seem to just hit brick wall after brick wall after brick wall.
I've never written a novel before, and the prospect is honestly quite daunting. In contrast, I find short stories and flash fiction to be nice little contained packages. I can fit the whole thing in my head at once and pick through the nuances of the story scene by scene to the end. As a self-perceived pantser, I don't really know how my process works. I kind of just let the story take me where it takes me.
My lack of inspiration and excess of writer's block ultimately led to me sign up for the NYC Midnight Short Story Challenge. I had participated in their Flash Fiction Challenge (FFC) and Short Story Challenge (SSC) a couple years ago (pre-baby and pre-pandemic) and found them to be thrilling, energizing, and (as the titles suggest) challenging. I ended up writing in genres I don't typically write in with topics or characters I don't typically write about, and I have a complete story in days as opposed to months or years. Best of all, I keep the rights to those stories, and I get real feedback on all submissions.
The first round just ended this past Saturday. Pictured is my writing assignment.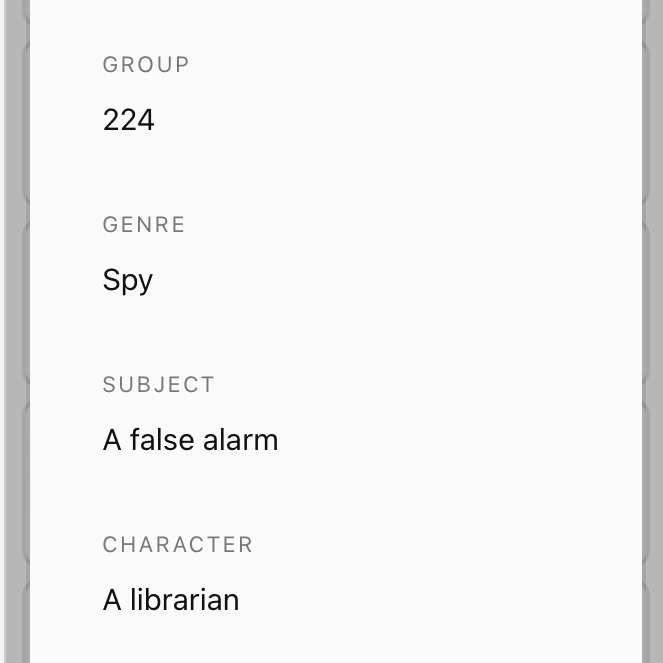 For the SSC, writers compete in groups of about 20 with only the top 5 continuing to the next round. I had 8 days to write a 2500-word story with the above writing assignment. My husband and I sorted out a temporary routine to give me extra time and space to write while also ensuring we could both spend quality time with the kiddo. We made it work and at the end of the 8 days I submitted a story I was proud of, regardless of what the results may end up being.
But I didn't really come here to talk about that story. Not exactly.
As I was preparing to write that story, I tried to think of the short story-writing process like a microcosm of the novel-writing process. I started to think that maybe my lack of awareness around my own creative process was stunting my ability to make progress on my novel.
So, I watched myself write and tried to pay particular attention to when I felt like I could move from brainstorming to drafting. I found that I wrote in two different stages. One that motivated me to start and a second that motivated me to finish.
Stage number 1: Understanding the main character.
This didn't necessarily mean I had a clear image of what they looked like or how they identified. In fact, my character's racial identity changed when I hit stage 2. Rather, I had internalized the character's state of being, their emotional landscape and the starting point to their character arc.
Stage number 2: Understanding the ending.
This was surprising to me. I always thought I was a pantser, not really knowing the end until I got there. Maybe I assumed this because I tend to write in short format, and I do tend to start before I know the end. But I found that there was a point in my process where I couldn't seem to continue drafting until I knew the ending. Not the full scene, down to the very last detail with the very last line of dialogue running through my head, but the essence of the ending. The resolution driven by the development the emotional landscape with which I started. The completion of the character arc.
So, what does this mean for me?
Surprise! I'm a guess I'm a planster? Time will tell. This will still take some trial and error, I think. This was one short story and I'm still not completely clear on how to scale up to novel-writing success (i.e. draft completion). But I think I at least have some direction.
Stay tuned. And wish me luck.